Kinect Controller
Introduction
In this projects, students will work with Kinect sensor to detect a set of features of body movements.
Materials
Hardware
This is the basic necessary hardware:
Computer with Windows, Linux or OSX.
Kinect, version 1.
Software
Software includes 3 layers: driver, middleware and a wrapper for the development environment used.
Drivers:
MS SDK v 1.8, that includes microsoft drivers. This is valid only for windows, but it allows the use of all the sensor capacities.
libfreenect OpenKinect proyect that have to be compiled. This driver is used by the wrapper openkinect
OpenNI Kinect drivers. Different OS have different drivers. For Windows you could also try this. This driver is used by the wrapper SimpleOpenNI
Middleware:
Wrappers for Processing:
Kinect4WinSDK. This is the simplest solution to use kinect with processing, as it only needs MS SDK 1.8. It only works in Windows.
SimpleOpenNI is a OpenNI and NITE wrapper, but it only works for versions less than processing-3.0
Other environment.
Visual Stuido for Windows platforms.
Framework for this project (only for Windows):
MS SDK v 1.8, that includes microsoft drivers. This is valid only for windows, but it allows the use of all the sensor capacities.
You will also need some libraries for Processing:
BlobDetection allows to detect pixels with brightness below a configurable threshold value.
Box2D is a library that simulates rigid bodies in 2D.
Sensor Kinect
This section summarizes the main features of Kinect (v1) sensor: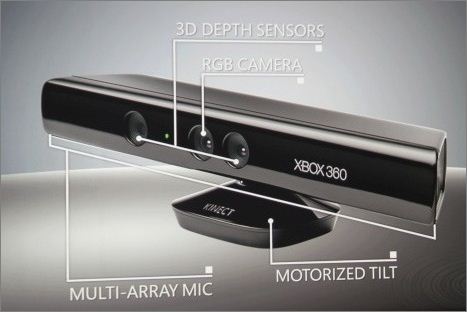 Video Camera that gives RGB image of 640x480 or 1280x960 pixels, in 12, 15 at 30 fps.
2 IR Cameras - depth data of 80x60, 640x480 or 320x240 at 30 fps.
4 microphones.
Tilt motor.
Kinect depth sensor range goes from about 60-80cm to 4-5m.
Coordinate system
There are two main coordinate systems that have to be taken into account. This figure shows the sensor coordinate system:
But there is also a projection coordinate system, that is related to what Processing projects to the screen.
Skelleton
Kinect is able to give information about the
---
Exercises
Install all the necessary SW components, and check they work.
Check the tutorials out, for getting started with Processing language.
Run Kinect4WinSDK example.
Get used to the different data the kinect gives:

Kinect.GetImage(), Kinect.GetDepth() and Kinect.GetMask()
SkeletonData

Extract some features of the user. For example:

3D vector of the skeleton points.
3D vector of the Center of Mass of user's in scene

Calculate as a normalized scalar value the relative area of the body in the screen respect to the maximum when the user is in "viturbio pose" (value 1), so it is scale prone.
Calculate the optical flow using any of the determination methods (see link). You could find help in this reference.
From the optical flow, calculate the 3D vector of the total movement of the user.
From the optical flow, calculate a set of 3D vectors by zones with a maximum optical flow respect a configurable threshold. The origin of each vector should go from the center of mass of each zone, and would be the sum of the optical flows vectors from each pixel.
Make an application that includes kinect in Particles example of Procesing, so the particles source is in one hand. Particle example is in File-Examples-Demos-Graphics.
---
Links
page revision: 16, last edited: 14 Apr 2016 01:13